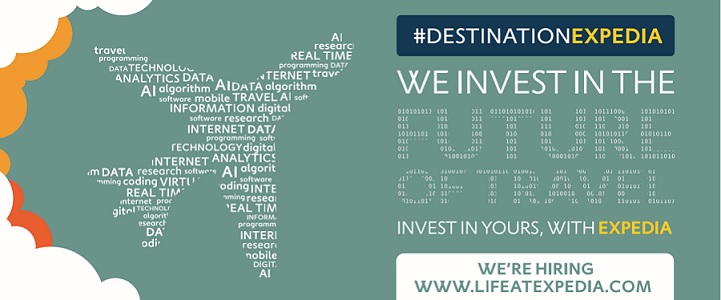 Enterprising. Innovative. Passionate.
Our mission is to revolutionize travel through the power of technology. We are the largest online travel company in the world – we own and operate a diversified portfolio of well-recognized brands including Expedia.com, Hotels.com, Wotif, Orbitz, Travelocity, Trivago, Hotwire, Egencia and Homeaway. Collectively, the Expedia brands cover virtually every aspect of researching, planning, and booking travel, from choosing the best airplane seat, to reading personal travel reviews of hotels, to planning what to do in a destination once you arrive.
Expedia Culture:
The true traveler carries their home with them. On their sleeve. They can put down deep roots even if they have only been somewhere for a day. Expedia is a community of travelers who call the whole world their home. When we say we're a global company we don't mean that we have a couple of offices spread over a few different countries. Our outlook is global. When we work on a project, we have a dozen voices on the call, jabbering away, accents melding, all confident that their input is valuable. Because it's obvious to us all, good ideas have no nationality and nor does laughter.
We Embrace Diversity:
At Expedia we believe in empowering our employees to connect with fellow colleagues who have the same interests and passions they do. From Women, LGBT, and Military/ Veteran focused affinity groups, to sustainability and volunteering causes, we support our employee's passions and diversity around the world. You'll find us recruiting at national conferences sponsored by diversity groups. We're inclusive and that's never going to change. Whatever your culture, your background or your way of life, we have a rewarding career in store for you.